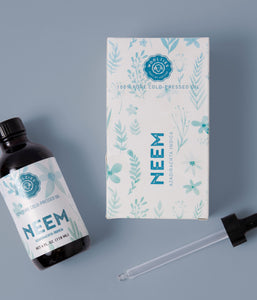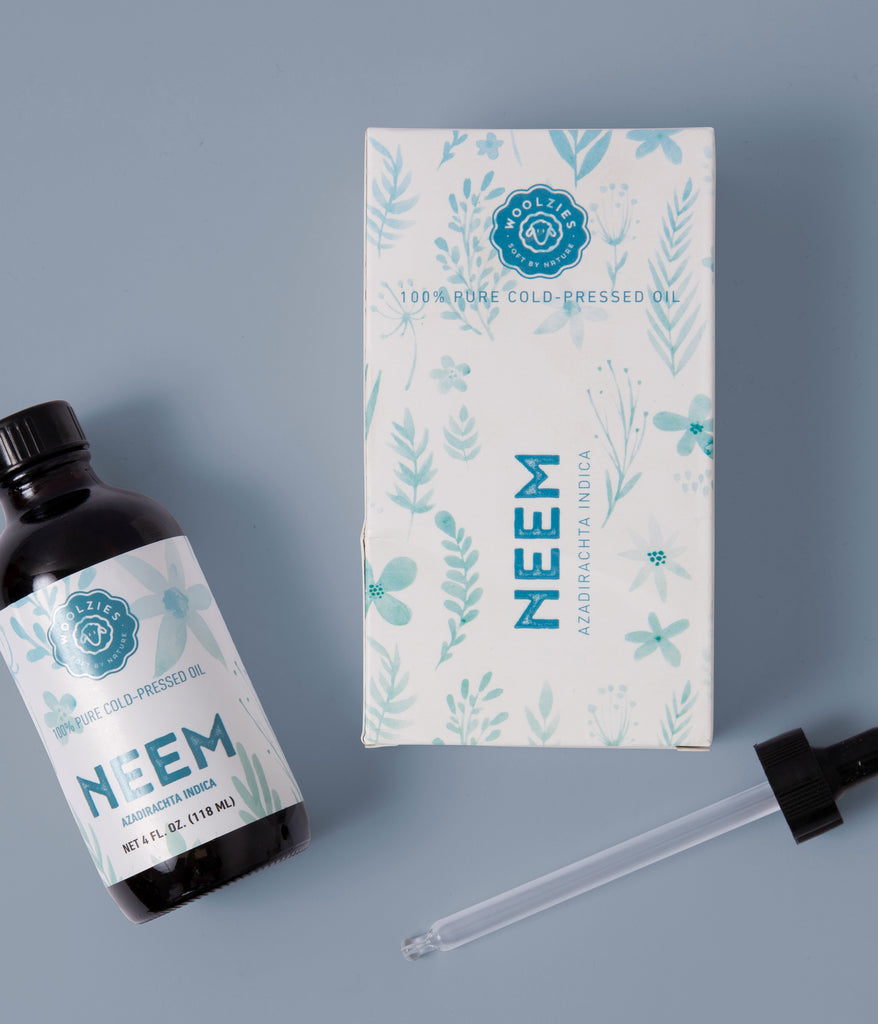 What's Inside
Only natural ingredients. Period.
Neem Oil
Ingredients
The neem tree, also known as Azadirachta indica, is native to the Indian subcontinent but is grown in many tropical and semi-tropical areas. This fast-growing tree produces fragrant white flowers and small olive-like fruit.
EXTRACTION METHOD
Woolzies Neem Oil is cold-pressed from the seeds of the neem tree. No heating or harsh chemicals are used during the extraction process.

How To Use

Skin + Body
Neem oil has a strong aroma, so when using topically it's advised to dilute it in a 1:1 ratio with another carrier oil.
Massage a small amount of diluted neem oil onto your legs, arms, and other exposed body parts to repel insects. It can also be applied to your pets' skin and coat to repel fleas and other insects.
Use neem oil topically to treat nail infections, cuts, redness, inflammation, acne, and itchy skin.
To treat head lice, massage diluted neem oil into the scalp and hair. Cover with a shower cap and leave in overnight. The next morning, comb the hair before washing with shampoo.

Home
Use neem oil to make a natural anti-microbial cleaning spray. Combine 1 tablespoon neem oil, ½ cup pure vodka, and 1 cup water in a spray bottle. Use this to clean surfaces, windows, floors, and furniture. Spray it onto your bed and linen to eradicate fleas and bed bugs.
To make a natural insecticide spray for the garden, mix 5ml (1 teaspoon) neem oil,
2ml liquid soap, and 1-liter of water. Store this in a spray bottle and use the mixture
on your plants within 8 hours of making.
Reviews
Customer Reviews
Great Quality!
Love the quality of this product. Recurring purchase.
07/04/2022
Alina

United States
Great for indoor pest control
I love this Neem oil for my indoor house plants! I use it with Dawn dish soap and water in a spray bottle and it has saved my fiddle leaf fig plants from pest and its safe around my dog. Highly recommend using this EO for indoor pest control vs harsh chemicals and pesticides.
07/23/2021
Sandra G.

United States
Neem oil.
I use this oil on everything. It controls pest on my plants, I use it in my dogs ears. Neem oil is amazing.