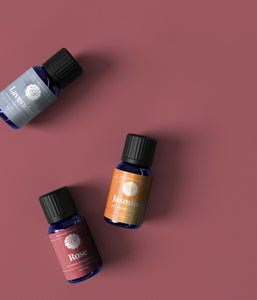 The Florals Collection Set of 3
What's Inside
Only natural ingredients. Period.
The Floral Collection (Set of 3)
The Floral Collection
Lavender Essential Oil
Woolzies Lavender Essential Oil is a rich, floral, and herbaceous oil that is stress-relieving and sleep-inducing. It's a versatile oil with anti-inflammatory and antimicrobial properties. Lavender oil can be inhaled, diffused, applied topically, and used for cleaning.
EXTRACTION METHOD

Lavender, also known as Lavandula angustifolia, produces beautiful pinkish-purple
flowers that give off an intoxicating floral aroma. It is a water-wise plant that is
indigenous to the Mediterranean area of Europe.
Rose Essential Oil
Woolzies Rose Essential Oil is a sweet floral oil that encourages romantic and uplifting feelings. It benefits emotional balance and skin health. Rose oil can be inhaled, diffused, and applied topically.This oil also contains distillates of geranium oil, distillates of neroli oil, distillates of citronella oil, distillates of palmrosa oil.
EXTRACTION METHOD
Rose oil comes from the Damask rose, also known as Rosa damascene. This hybrid flower originated in the Middle East and has two varieties: Summer Damasks and Autumn Damasks. It has vibrant pink flowers with a sweet intoxicating aroma.
Jasmine Essential Oil
Woolzies Jasmine Essential Oil is a romantic and mood-boosting oil that is often called the King of Oils. It has a heady, floral, sweet aroma. Jasmine oil can be diffused, inhaled, and applied topically in skin care and massage.
This oil contains 30% jasmine oil, 20% distillates of neroli oil, 15% distillates of rose oil, 15% distillates of geranium oil, 10% distillates of lavender oil, and 10% distillates of tuberose.
EXTRACTION METHOD

Jasmine, known by its botanical name Jasminum officinale, has white star-shaped flowers with a rich floral scent. The plant is indigenous to the Middle East and Asia but is now grown in many sub-tropical climates.

How To Use

Skin + Body
To apply these oils to the body, dilute 4-6 drops in 20ml (2 Tbsp) of carrier oil.
Massage lavender oil into the bottom of the feet before bed to combat insomnia and anxiety.
Applied topically, these oils can treat tense and aching muscles as well as insect bites, blemishes, burns, and infections.
Make a soothing bath salt blend by adding 1 cup of Epsom salts, 4 drops of lavender oil, 3 drops of rose oil, and 3 drops of jasmine oil to a warm bath.

Home
Make a romantic floral room spray by combining 1 cup water, ½ cup witch hazel,
15 drops rose oil, 10 drops lavender oil, and 10 drops jasmine oil. Keep this in a spray bottle and shake well before misting into the air.

Diffuse
Add 3-5 drops of any of these oils per 100ml of water to an oil diffuser.