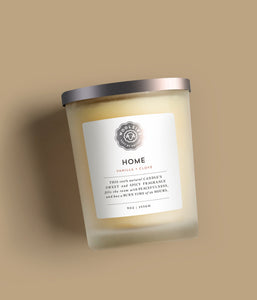 Home Vanilla + Clove Soy Candle 9oz
What's Inside
Only natural ingredients. Period.
Home Vanilla + Clove Soy Candle
Home Vanilla + Clove Soy Candle
Vanilla
Vanilla Essential Oil is made by infusing sunflower oil with vanilla beans. This produces an intoxicating, rich, and sweet oil. It is a calming oil that fights inflammation.
Vanilla, also known as Vanilla planifolia, is a vine that grows up an existing structure. It is native to Mexico and is now grown in Indonesia, Madagascar, and Réunion. The vines produce stringy pods which contain sweet-smelling seeds.

Clove
Clove Essential Oil is a warm spicy oil that improves mental alertness and blood circulation.

Clove trees, also known as Eugenia caryophyllata, grow in Indonesia, Madagascar, and Zanzibar where they commonly live to be more than 100 years old. The tree's bark, green leaves, and white flowers all have a spicy aroma.
Reviews
Customer Reviews
07/10/2022
Ashley

United States
Best Candle Ever!
I got my candle in a subscription box. The burn is really clean (no dark/black smoke). The smell is not overpowering and does not have any chemical smell. The ingredients it says on the label is soy wax and vanilla, clove, and peppermint essential oils. The burn time is true. Had the candle for 2 months and now the wick is done. Need to buy one now!
01/06/2020
Amanda

United States
Great candle & Customer Service!
Burns nicely and I have peace of mind that I'm not filling my home with toxins as it burns.