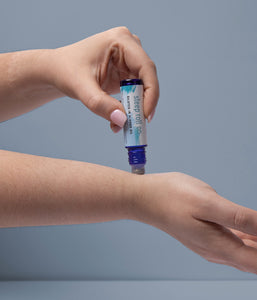 What's Inside
Only natural ingredients. Period.
Sleep Blend Roll-On (10ml)
Sleep Blend Roll-On
Ingredients
Lavender oil, chamomile oil, orange oil, copaiba oil, sandalwood oil, white lotus oil, vetiver oil, blue tansy oil, patchouli oil, ylang ylang oil, bergamot oil, and almond oil.
How To Use

Skin + Body
Apply Sleep Roll-On to the temples and pulse points to relieve stress and anxiety.
Apply this oil to the pulse points and bottom of the feet to encourage calm and restful sleep.
Roll this oil across the back of the neck and shoulders to release tension and relax the body and mind.
Reviews
Customer Reviews
01/29/2022
Leanne

Canada
Best sleeps ever!
I got this oil blend for my husband for Christmas and decided to use it as well. I just love it! ❤ I usually have a very difficult time falling asleep and an even harder time staying asleep. This blend immediately relaxes me and I am able to fall asleep easily and comfortably. I am able to stay asleep and for the first time in a long time I wake up in the morning feeling rested and relaxed. I have ordered more and have a feeling I will be a regular user of the Sleep Blend by Woolzies!