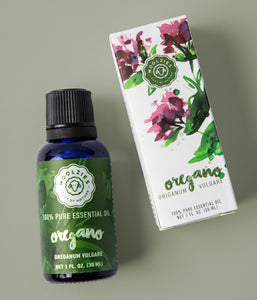 What's Inside
Only natural ingredients. Period.
Oregano Essential Oil (1oz)
Oregano Essential Oil
Ingredients
The oregano plant, also known as Origanum vulgare, is an herb that is indigenous to Turkey, Greece, and Italy. The herb produces purple flowers and dark green leaves with a strong peppery scent. There are over thirty varieties of oregano.
EXTRACTION METHOD
Woolzies Oregano Essential Oil is steam distilled from the flowers and leaves of the herb.

How To Use

Diffuse
Diffuse oregano oil by adding 1-3 drops per 100ml of water to an oil diffuser.

Skin + Body
Oregano oil is strong, so use it topically by diluting 1-3 drops in 20ml (2 Tbsp) of carrier oil.
Dab this oil onto skin blemishes and problem areas.
Rub some oregano oil onto the bottom of the feet to boost immunity.
Use this as a massage oil to relieve sore and fatigued muscles.
Add 2-3 drops to a warm bath to soothe the body and open the airways.

Home
Make a natural household cleaner by combining 1 cup water, ½ cup vodka, 10 drops oregano oil, 20 drops lemon oil, and 20 drops tea tree oil in a spray bottle. Shake this well before using it to clean floors, windows, surfaces, bathrooms, and kitchens.


Pairs Well With
Oregano essential oil pairs well with basil, thyme, lemongrass, lemon, geranium, and rosemary essential oils.
For an odor-busting and air-freshening blend, combine 2 drops of oregano oil and 4 drops of peppermint oil.