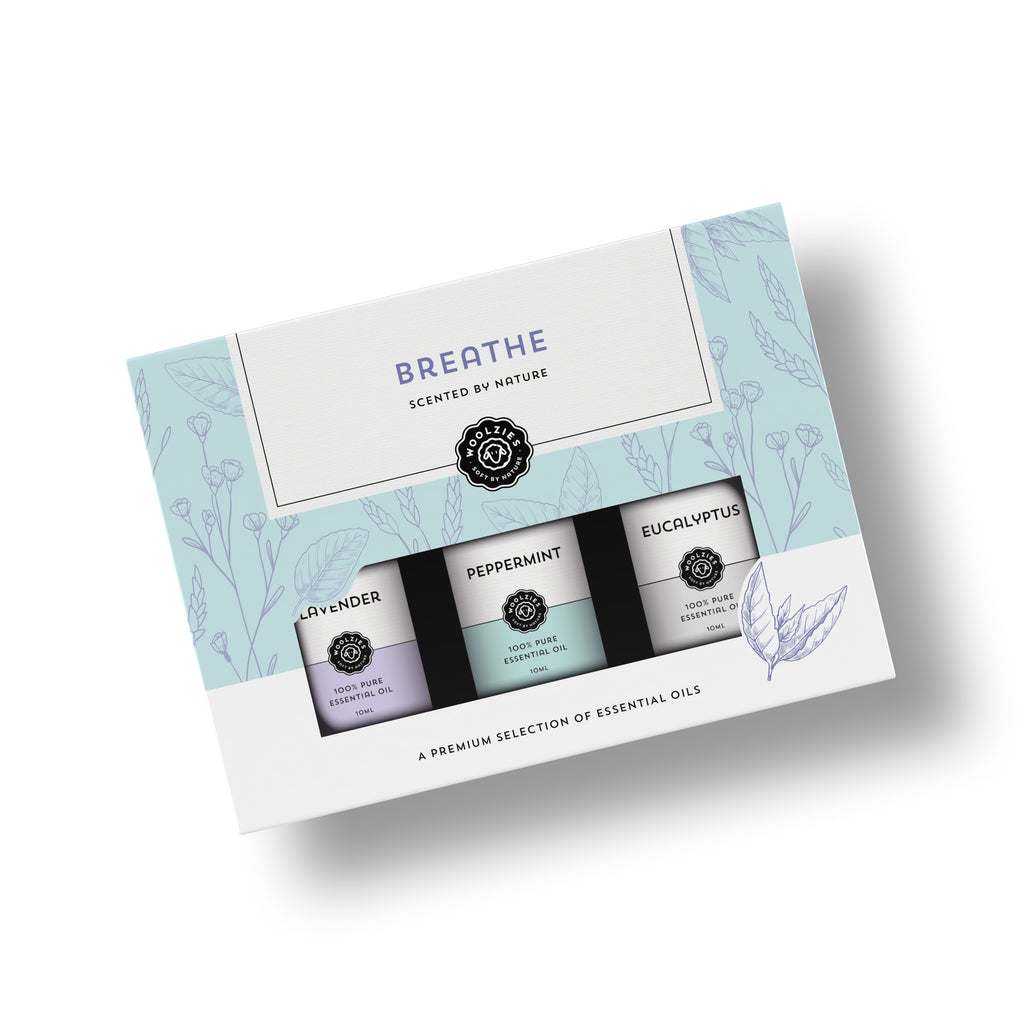 What's Inside
Only natural ingredients. Period.
Lavender Essential Oil

Peppermint Essential Oil

Eucalyptus Essential Oil
Lavender Essential Oil
Lavender Oil
Lavender, also known as Lavandula angustifolia, produces beautiful pinkish-purple flowers that give off an intoxicating floral aroma. It is a water-wise plant that is indigenous to the Mediterranean area of Europe.
EXTRACTED METHOD
Woolzies Lavender Essential Oil is extracted by steam distillation from the flowers of the plant.
Peppermint Essential Oil
Peppermint Oil
Peppermint essential oil is a cooling, stimulating, and uplifting oil with a fresh minty scent. It helps to relieve congestion, respiratory issues, halitosis, headaches, and muscle pain. Peppermint, also known as Mentha piperita, is a hybrid plant of water mint and spearmint. It is indigenous to Europe and the Middle East. This plant has light purple flowers and serrated green leaves with a fragrant minty aroma. Woolzies Peppermint Essential Oil is extracted by steam distillation using the leaves of the plant.
Eucalyptus Essential Oil
Eucalyptus Oil
Eucalyptus essential oil is a refreshing camphorous oil that supports respiratory function. It has warming and soothing properties that can treat poor circulation and painful muscles. The eucalyptus tree, also known as a blue gum tree or Eucalyptus globules, is native to Australia and has an herbal fragrance. It is a tall tree with white flowers and oval-shaped blue leaves that turn green as they mature.
How To Use

Diffuse
Diffuse breathe oils by adding 3-5 drops per 100ml of water to an oil diffuser.

Skin + Body
Use eucalyptus oil topically by diluting 4-6 drops in 20ml (2 Tbsp) of carrier oil.
Make shower melts using eucalyptus oil to relieve congestion and open up the airways. You will need 1cup of baking soda, ¼ cup water, 15 drops eucalyptus oil, 15 drops peppermint oil, and silicone molds. Mix the baking soda, water, and essential oil until it forms a thick paste. Scoop the mixture into the silicone molds and set aside overnight to dry and harden. Remove the shower melts from the molds and store them in an airtight container. Place one shower melt on the floor of the shower to enjoy its amazing benefits.

Home
Lavender oil can be used to freshen linen, clothing, and the air in your home.
Combine 25 drops of lavender oil with 1 cup of water in a spray bottle for a
floral room and linen spray.
Place a few drops of eucalyptus oil on a cotton ball and put it at the bottom of the garbage can to prevent odors.

For a refreshing blend that will reduce congestion, combine 5 drops eucalyptus oil, 5 drops tea tree oil, and 5 drops peppermint oil.

Reviews
Customer Reviews
08/06/2020
AFC

United States
Favorite!
This pack is my favorite variety! I am in graduate school and work full time, so I stay busy. I use these oils when I study and I am able to accomplish so much more after a busy day at work than had I not used them. Plus, they smell great! I keep extra kits around the house because I'm afraid to run out!