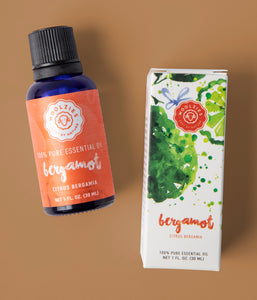 What's Inside
Only natural ingredients. Period.
Bergamot Essential Oil (1oz)
Bergamot Essential Oil
Ingredients
The bergamot tree, also known as Citrus bergamia, is a delicate citrus plant that produces white flowers and yellow-green fruit known as bergamot orange. It is grown commercially in Italy and has a spicy citrus aroma.
EXTRACTED METHOD
Woolzies Bergamot Essential Oil is extracted by steam distilling the peel of the bergamot fruit.
How To Use

Diffuse
Diffuse bergamot oil by adding 3-5 drops per 100ml of water to an oil diffuser.

Skin + Body
Use bergamot oil topically by diluting 4-6 drops in 20ml (2 Tbsp) of carrier oil.
This oil can be used as a relaxing massage oil.
Add 5-10 drops to a warm bath for its calming properties.
To make a purifying skin toner, combine 1 cup water, 1 tablespoon witch hazel, and 25 drops bergamot oil.
Apply this to the face using a cotton ball.

Home
Use bergamot oil to make a carpet and room spray to freshen the air, remove odors, and kill microbes. Combine 1 cup water, ½ cup pure vodka, 15 drops bergamot oil, and 15 drops lavender oil in a spray bottle.

Pairs Well With
Bergamot pairs well with geranium, lavender, patchouli, ylang ylang, eucalyptus, lemon, and sweet orange essential oils.
Make a relaxing sleep blend by combining 5 drops of bergamot oil and 5 drops of lavender oil.
Reviews
Customer Reviews
12/26/2019
stephanie

Canada
Love it
the product gives a clean, refreshing, sweet citric fragrance with hints of floral aroma. just love it.