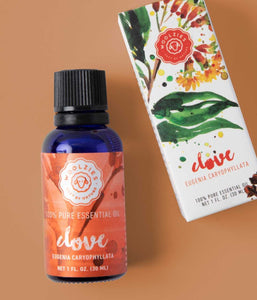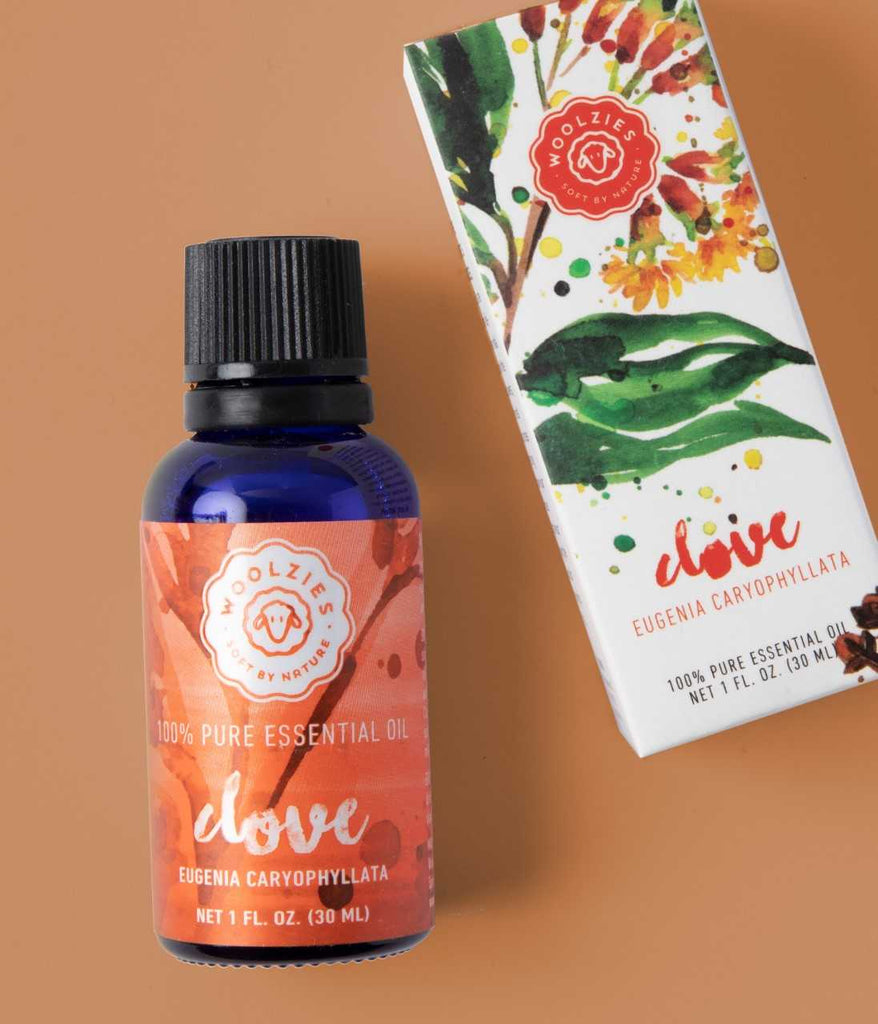 What's Inside
Only natural ingredients. Period.
Clove Essential Oil (1oz)
Clove Essential Oil
Ingredients
Clove trees, also known as Eugenia caryophyllata, grow in Indonesia, Madagascar, and Zanzibar where they commonly live to be more than 100 years old. The tree's bark, green leaves, and white flowers all have a spicy aroma.
EXTRACTION METHOD
Woolzies Clove Essential Oil is extracted from the leaves and flower buds of the tree via steam distillation.

How To Use

Diffuse
Add 3-5 drops of clove oil per 100ml of water to an oil diffuser to enjoy its warming aroma, remove odors, and repel insects.


Skin + Body
To apply clove oil to the body, dilute 4-6 drops in 20ml (2 Tbsp) of carrier oil.
Applying clove oil topically can treat sore and tense muscles as well as skin conditions and infections.
To relieve teeth or gum pain, place some diluted clove oil onto a cotton bud and apply it to the affected area.

Home
Treat and prevent mold on tiles, walls, and ceilings by adding 50 drops clove oil to 1 liter of water in a spray bottle. Spray this mixture onto moldy areas and leave it on for 2-3 hours before wiping it off with a wet cloth.


Pairs Well With
Clove oil pairs well with cinnamon, peppermint, eucalyptus, sweet orange, and grapefruit essential oils.
For a warming blend to soothe muscles, combine 3 drops clove oil, 2 drops cinnamon oil, 2 drops peppermint oil, and 1 drop eucalyptus oil.
Reviews
Customer Reviews
Best Choice for Tooth/Gum Pain Relief
Woolzies is a great company. The Clove Oil is very potent and the quality is amazing. I use it primarily for a tooth ache, which works better than any over-the-counter topical anesthetic such as Orajel. It rids of the pain and dulls down the inflammation. I just dab a tiny bit on a Q-tip or cotton ball and apply it directly to the affected tooth or area of pain. Clove Oil is one of the only things I recommend for incredibly fast and effective pain relief. The effects last long after application. Be careful not to get too much on the skin or lips, as it can burn. I like that this is a 1 oz. bottle. Most pharmacies or other stores carry much smaller amounts, which only last a short time. The price for this was $9.99, which is a great deal. I will be purchasing more from Woolzies!