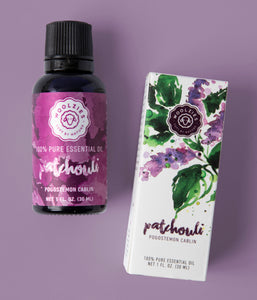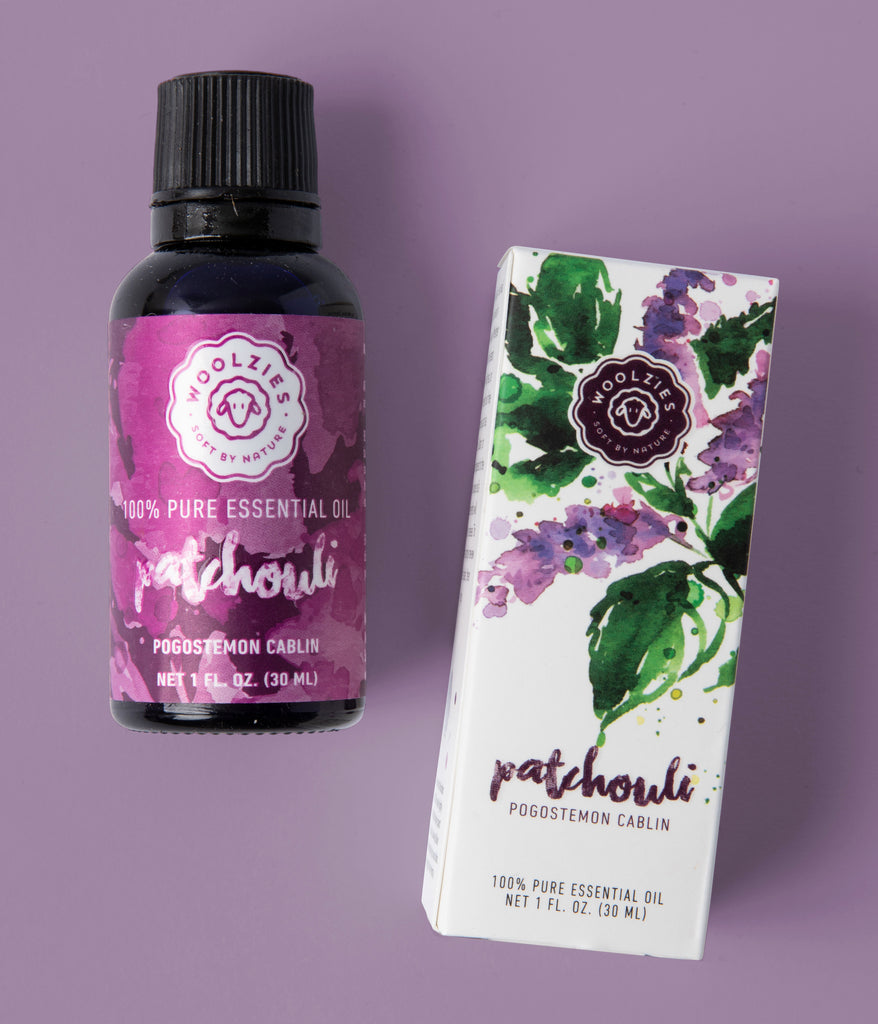 What's Inside
Only natural ingredients. Period.
Patchouli Essential Oil (1oz)
Patchouli Essential Oil
Patchouli
The patchouli plant, also known as Pogostemon cablin, is a bushy herb that produces furry leaves and pink-white flowers. It is part of the mint family and is native to tropical areas in Southeast Asia.
EXTRACTION METHOD
Woolzies Patchouli Essential Oil is extracted by steam distilling the young leaves of the plant.

How To Use

Diffuse
Diffuse patchouli oil by adding 3-5 drops per 100ml of water to an oil diffuser.

Skin + Body
Use patchouli oil topically by diluting 4-6 drops in 20ml (2 Tbsp) of carrier oil.
Add 5-10 drops to a warm bath to soothe the body and mind.
Add 2-3 drops to your skin moisturizer to reduce the appearance of blemishes, scars, or wrinkles.
Make a body scrub for glowing skin by combining 1 cup of granulated sugar, 1/4 cup of carrier oil, 12 drops of patchouli oil, 4 drops of geranium oil, and 3 drops of frankincense oil. Store this in a jar and massage 1 scoop gently across the body.

Home
Add 3-4 drops of patchouli oil to cotton balls and place them around the house and in closets to prevent termites, moths, and other insects.


Pairs Well With
Patchouli essential oil pairs well with ylang ylang, lavender, bergamot, geranium, frankincense,
sandalwood, cedarwood, and sweet orange essential oils.
For an uplifting oil blend, combine 5 drops patchouli oil, 3 drops ylang ylang oil, 3 drops frankincense oil, and 3 drops bergamot oil.
Reviews
Customer Reviews
12/02/2023
Gerri M.

United States
Did not receive my order
USPS said it was DELIVERED. But I never received MY ORDER
12/01/2022
jay s.

United States
Very wanted down thin oil
I have used this brand for yrs and now it is not the same quality oil. It is colorless and oil is so thin and runny, the fragrance is so weak. Used to be my favorite brand, not anymore.