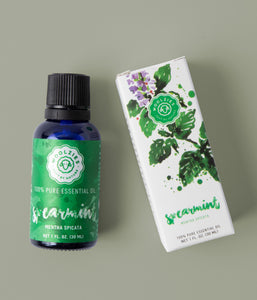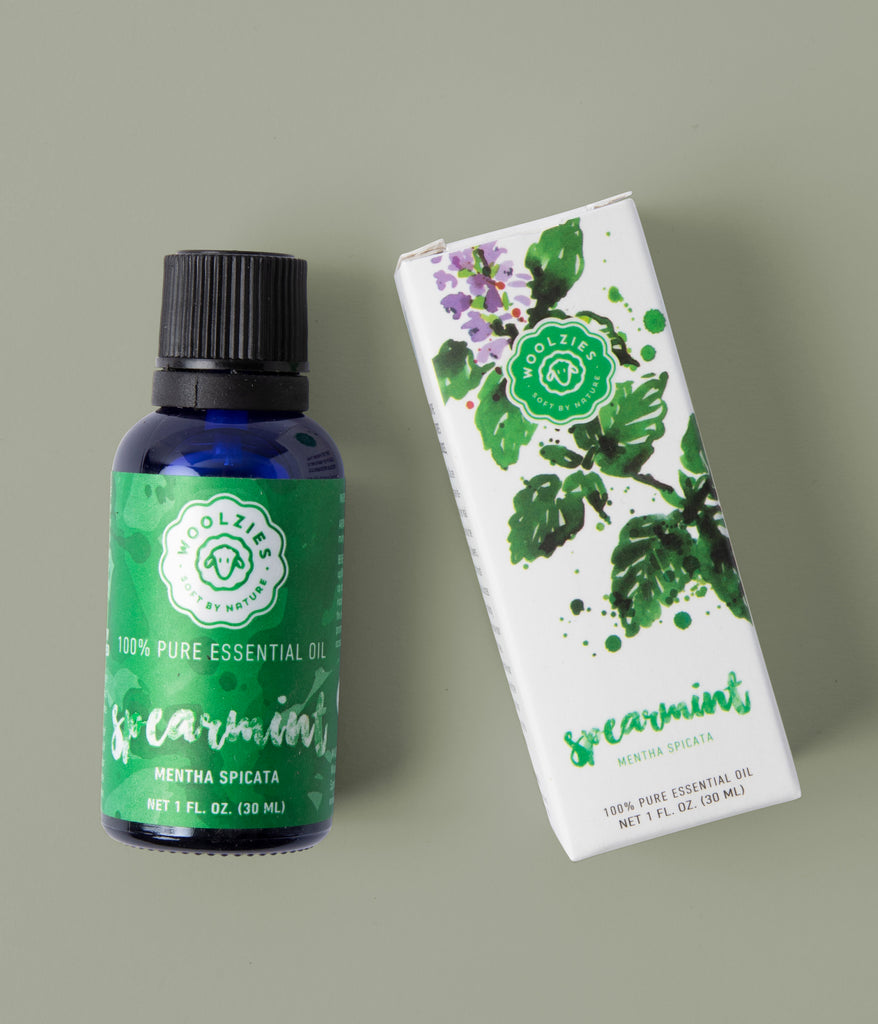 What's Inside
Only natural ingredients. Period.
Spearmint Essential Oil (1oz)
Spearmint Essential Oil
Ingredients
Spearmint, also known as Mentha spicata, is a hardy herb with a fresh minty aroma, green serrated leaves, and pink-white flowers. It grows throughout Europe and Asia. The name spearmint comes from its pointed spear-like leaves.
EXTRACTION METHOD

Woolzies Spearmint Essential Oil is steam distilled from the leaves of the plant.

How To Use

Diffuse
Diffuse spearmint oil by adding 3-5 drops per 100ml of water to an oil diffuser.

Skin + Body
Use spearmint oil topically by diluting 4-6 drops in 20ml (2 Tbsp) of carrier oil.
Use this oil topically to soothe bites, skin irritations, and aching muscles.
Add 5-10 drops of spearmint oil to a bath to reduce congestion, soothe the body, and boost energy.
Make a natural toothpaste by combining 3 Tbsp baking soda, 3 Tbsp coconut oil, 10 drops peppermint oil, and 10 drops spearmint oil. Store this in a jar and dip your toothbrush in the mixture before brushing.

Home
Make a refreshing and relaxing spearmint oil room spray to use in the bathroom, bedroom, living room, kitchen, and office. Combine 1.5 cups water, 1 tablespoon baking soda, 10 drops spearmint oil, and 15 drops lavender oil in a spray bottle.


Pairs Well With
Spearmint oil pairs well with peppermint, wintergreen, eucalyptus, tea tree, lavender, basil, ylang ylang, and rosemary essential oils.
For a decongesting blend, combine 3 drops spearmint oil, 5 drops eucalyptus oil, 3 drops tea tree oil, and 3 drops rosemary oil.
Reviews
Customer Reviews
12/29/2020
Kristina

Canada
Love it
Amazing scent for relaxing and unwinding. It helps me fall asleep.
love the smell of it
very pleasant and minty