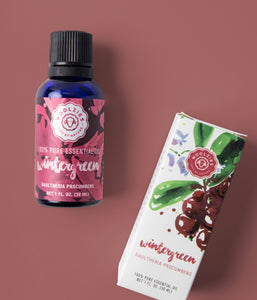 Wintergreen Essential Oil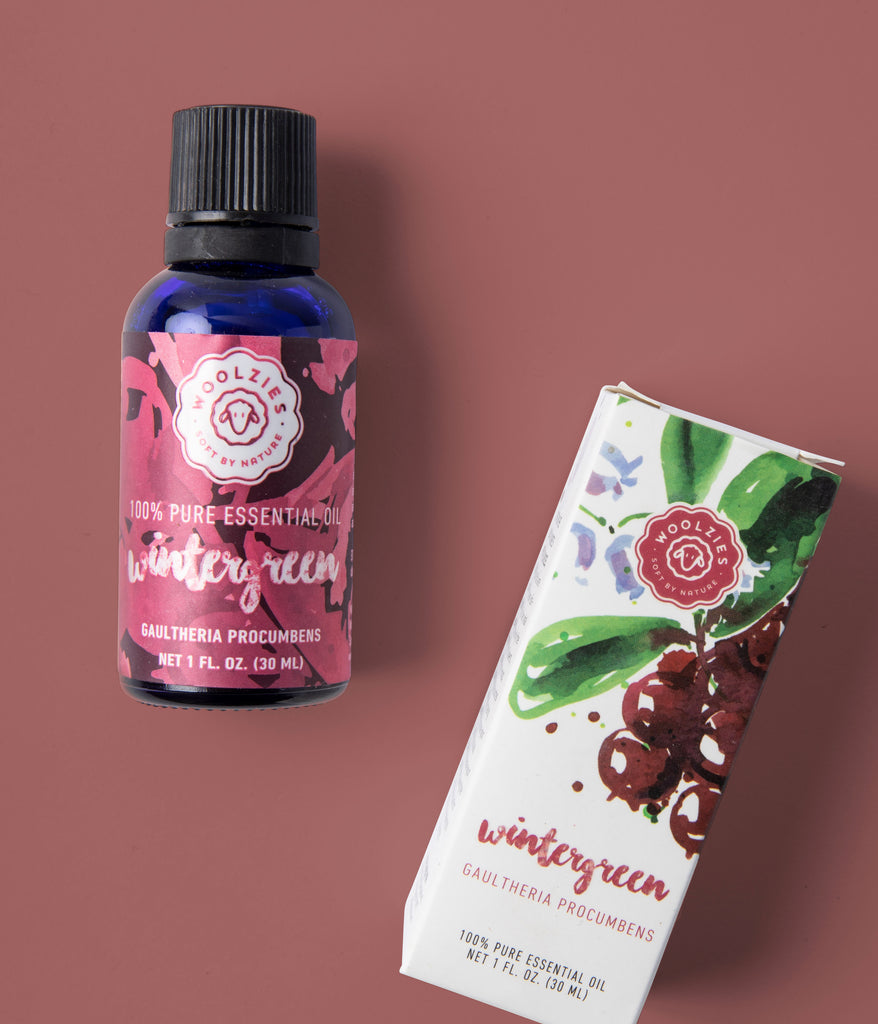 What's Inside
Only natural ingredients. Period.
Wintergreen Essential Oil (1oz)
Wintergreen Essential Oil
Ingredients
The American wintergreen plant, also known as Gaultheria procumbens, is a low-growing shrub that produces dark-green leaves which give off a sweet minty aroma. It has small white flowers and red fruit. This herb is native to North America.
EXTRACTION METHOD
Woolzies Wintergreen Essential Oil is steam distilled from the leaves of the plant.

How To Use

Diffuse
Diffuse wintergreen oil by adding 3-5 drops per 100ml of water to an oil diffuser.

Skin + Body
Use wintergreen oil topically by diluting 4-6 drops in 20ml (2 Tbsp) of carrier oil.
Massage this oil into muscles and joints to relieve pain and promote circulation.
Add 5-10 drops of wintergreen oil to a warm bath for a soothing soak.
To relieve headaches, blend 10 drops wintergreen oil, 10 drops peppermint oil, and 3 Tbsp carrier oil.
Store this blend in a bottle and apply a few drops to the temples and back of the neck as necessary.

Home
Add 2-3 drops of wintergreen oil to dish washing or laundry powder to disinfect and remove odors.
Place 2-3 drops of wintergreen oil on a cotton ball and leave it in closets and drawers to freshen clothes and prevent odors.

Pairs Well With
Wintergreen oil pairs well with peppermint, spearmint, lemongrass, grapefruit, bergamot, basil, lavender, and geranium essential oils.
For a tension-relieving and energizing oil blend, combine 6 drops wintergreen oil, 3 drops peppermint oil, and 3 drops lavender oil.
Reviews
Customer Reviews
12/31/2020
Linda H.

United States
Wintergreen
Such a soothing mint fragrance. Not over powering. I use this in my bedroom especially in the winter the air is so dry and the wintergreen keeps me sleeping no stuffy nose.